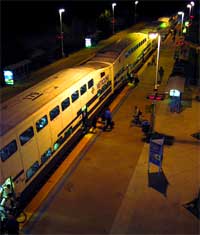 Kudos to Metrolink for testing out sending system status alerts using bleeding-edge SMS text messages. According to Metrolink's post on Twitter,
We've been sending 'tweets' to our 'followers' since mid-August 2008 as a pilot program and we plan to continue to test Twitter's effectiveness over the next few months but we need your feedback. But first you have to subscribe. Visit twitter.com to learn how to set up your free account. Next, use your cell phone or computer and send the following message to 40404: follow Metrolink. You should get a confirmation that you are now following Metrolink.
What kind of messages does Metrolink send out? Take a look at their web feed at http://twitter.com/metrolink and you'll find nuggets such as "Antel. Vall. Line Train 222 is 28 min. late out of Lancaster". This is the kind of quality up-to-the-minute information commuters have been craving for when they've found out their train has been delayed for an ambiguous amount of time, and information that should be on every LED display at every station!
(By the way, this initiative is similar to the Caltrain twitter feed that Ravi Pina, a Tellme, set up, except his feed is user-powered and includes bits of train commentary like alerts for crotchety train conductors: http://twitter.com/caltrain ) read more→