OCTA's planning on opening its very first bus rapid line, Bravo!, next year along Harbor Boulevard, with future lines along Bristol/State College Blvd and along 17th/Westminster. This is a huge step forward for transit in Orange County as this is its first local-limited pair bus line and will attract even more riders. Even better, their lines hit a lot of attractive destinations, including the Irvine Spectrum, Disneyland, South Coast Plaza, UCI Medical Center, Balboa Peninsula, plus numerous Metrolink and Amtrak train stations, where transfers will be a breeze once 30-minute train service starts in a few years.
Currently, to get to Long Beach from Newport Beach, say, takes an egregiously long 2-3 hours, via line 57 (Newport-Brea) and 60 (Tustin-Long Beach). These local lines stop at typically every block, and — believe it or not for car-loving Orange County — these lines often have standing-room only crowds and riders waiting at nearly every stop.
What is bus rapid transit?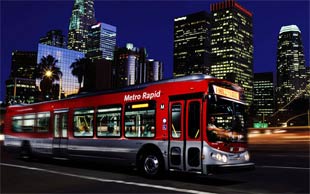 Bus rapid transit aims to make bus travel even quicker by having fewer stops (even fewer than typical limited-service lines), traffic signal priority, dedicated bus lanes, ticket vending machines at each stop (to reduce wait times at each stop) and frequent service. More transit agencies have been looking into bus rapid transit instead of light rail, since the Bush Administration's pro-automobile agenda has favored federal funding for these projects (such as through their New Starts legislation), and bus rapid transit seems to be cheaper to start up.
Rapid bus, on the other hand, takes just a few characteristics of bus rapid transit and typically uses mixed-flow traffic instead of a dedicated right-of-way. Some famous examples of rapid buses are AC Transit's 72R-San Pablo and 1R-International, and Los Angeles's sleek Metro Rapid buses, which stop as frequently as every 2 minutes.
Unfortunately, rapid buses still fails to have the appeal of light rail, and rapid buses are often hampered by political anti-bus bias. I've taken trips aboard VTA's Rapid 522 along El Camino Real, and not only are their rapid lines typically empty, but VTA's talk about ticket vending machines and traffic signal priority have failed to materialize in most cases. And in Los Angeles, the only signal priority Rapid Buses get are within the city of Los Angeles; otherwise, riders move as slow as traffic. This is why I like to call rapid buses "half-assed rapid" (or, h.a.r., as in har har! You transit riders not getting the best possible transit service).
Bravo! map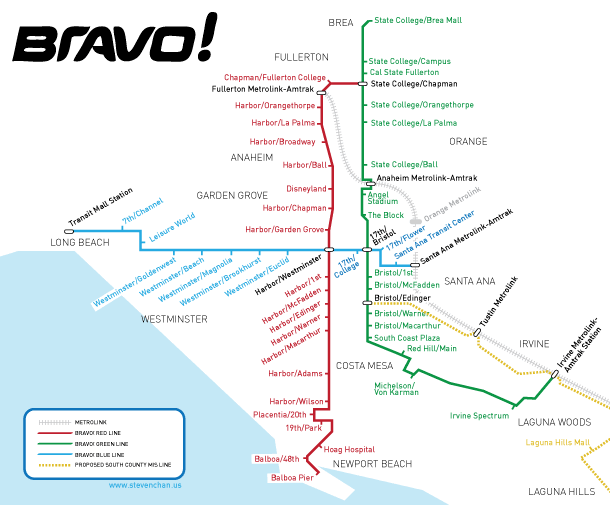 A recent set of minutes from the mid-August transit committee OCTA meeting reveals all the stops planned for Bravo!. I've created a map that represents the Bravo! system, including Metrolink stations that will be served by 30-minute train service. (of course, this design is inspired by the Go Metro map)
The Blue Line, a 21-mile route, largely follows existing OCTA route 60 except it terminates at The Depot at Santa Ana. A great plan, considering the amount of transit-oriented density that has built up near that station, not to mention it's an extremely popular Amtrak and Metrolink station with a very large parking garage.
The Green Line, which stretches 28 miles from Brea Mall through South Coast Plaza, complements OCTA route 57, a very busy line that employs 8-minute frequencies throughout the day and articulated 60-foot buses. The strange thing is that it continues there, goes through the Irvine business complex area, and then climbs **onto the freeway** and exits into the Irvine Spectrum and Irvine Metrolink Station. More on this oddity later.
The Red Line drives along 23 miles of local road from Fullerton to Newport Beach, largely follows existing OCTA route 43 except it starts from Cal State Fullerton — a transit-friendly university that provides free unlimited-ride bus passes to its students — and it ends at Balboa Peninsula, a wildly popular beach destination.
In my next post, I'll discuss a few odd things I've found with OCTA's Bravo! routing, plus a possible fourth Bravo! line.