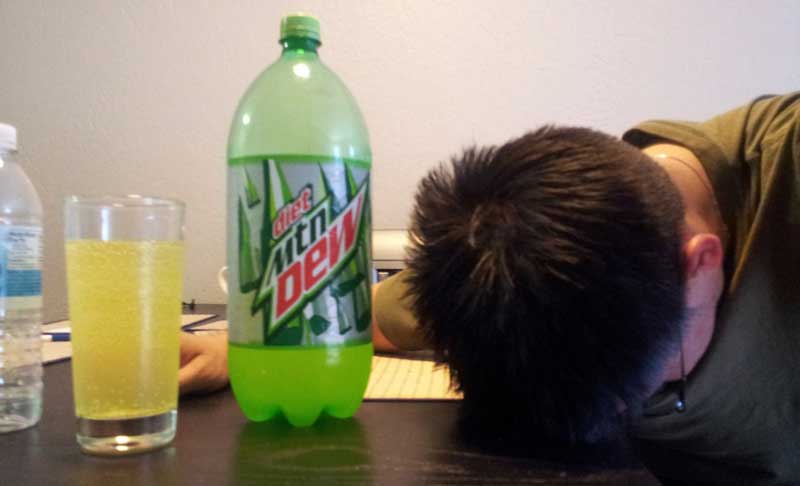 I just finished USMLE (the United States Medical Licensing Exam) Step 3, a 2-day-long ordeal spent answering questions about patient care.
500 multiple-choice questions pelted at me like paddles at a frat hazing party, each with clinical scenarios. I tore through several hours of 12 simulated patient cases, placing orders and doing virtual "exams" within the emergency department, the outpatient clinic, and in the inpatient wards. These were questions from nearly all of the specialties: a bit of opthalmology, dermatology, pediatrics, OB/GYN, lots of psychiatry, neurology, gastroenterology…suffice it to say, psychiatrists (like me) know quite a bit about the entire body and not just psychiatry cases. :-P
What's the exam like, emotionally?
Preparing for the exam didn't induce as much anxiety within me as Step 1 and Step 2 CK did. Because the format of these exams is so similar, though, I was both more comfortable with the format of the question software and more anxious because I knew how much material I had to review.
The exam was much more fun than Step 1 and Step 2 CK, though, since the exam preparation was geared towards more real-world clinically-relevant knowledge instead of esoteric facts.
I still had to attend work, however, and could only schedule time off to do the exam. I had some very merciful attending physicians that allowed me to study during downtime between seeing patients, though!
As far as the actual day of the exam itself, maintaining focus and concentration for 7 or 8 whole hours — with very little time for breaks — required at least 240mg of caffeine in the form of Starbucks espresso cans.
Study schedule
Finding time to study for the exam was the most challenging aspect. Since I was still doing a clinical rotation — although a lighter one — I frequently had no energy at the end of the day. Mornings were the best time for me in terms of energy and concentration, so I frequently woke up at 4am or 5am to hammer out 1 or 2 blocks of 48 questions.
During my clinical rotation, I would have USMLEWorld's mobile app on both my Android phone and my tablet, and queue up questions in Tutor mode and reviewing the answer explanations. Since I was frequently at a table, I was able to bring my review book, Master the Boards, and highlight passages.
It wasn't just me trying to find every little spare time to review, though: my girlfriend would run through questions on her Android phone while jogging around the neighborhood. Talk about multitasking!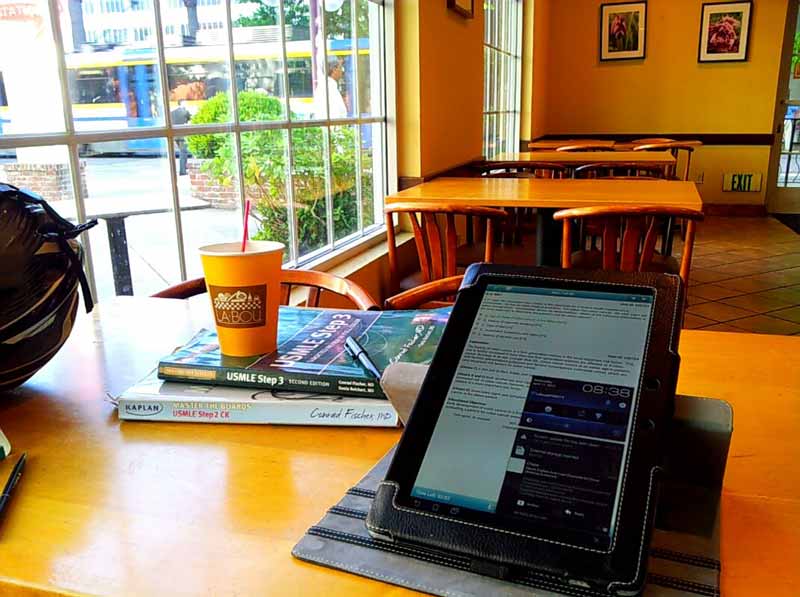 Study materials
I used the following (in descending order of importance):
Kaplan Master the Boards for

USMLE

Step 3
USMLEWorld qBank (for Android tablet, Android phone, and via web browser)
USMLEWorld

CCS

simulator
First Aid for Step 3
Kaplan Qbook
Kaplan Master the Boards for USMLE Step 3 was absolutely key. If there ware one book to get, get this. The book is more conceptual. And, more conversational. It pointed out a lot of traps, such as distinguishing amyl nitrite and valsalva maneuvers. It didn't overwhelm me as much as First Aid's review materials do. I was able to read this almost three times through, doodling pictures and memory tricks in the generous margins.
USMLEWorld qBank was also absolutely key. Just practicing all of the questions and reviewing the materials allowed me to get comfortable with the multiple-choice questions for the exam. This reportedly comprises 80% of the grade (CCS comprises the other 20%). Their mobile apps and web interface allowed me to practice and review pretty much anywhere. And, of course, their explanations were very, very helpful, even including drug/pharmaceutical company ads, journal article abstracts, and lots of biostatistics questions. (I didn't encounter any audio, unfortunately.) USMLEWorld was much more rigorous than the actual exam, but prepped me well. I was able to fit in about 98 questions a day, but only because I was on an 8-hour-a-day and 5-day-a-week rotation.
USMLEWorld's CCS Simulator allowed me to quickly get comfortable with the software. However, it didn't provide any sort of grading. Their explanations were fantastic and allowed me to get accustomed to the mindset of answering each stage of CCS properly. I ended up only using 25% of the material (believe me, 50 simulated cases is way too many to go through!).
First Aid for Step 3 had a lot of details. Like, to the point of excessive. I only used this book for the very useful 100 CCS mini-cases at the end, which presented good differential diagnoses for presented cases and a good workflow of orders to put in. I spent at least 2 days reviewing these cases, twice (once covering up the DDX, workflows, and follow-up management; then the second time just reading the list of orders to get a feel for the patterns of orders I should put into the computer). The rest of the book would be supremely useful if you were already a surgical or internal medicine intern and wanted more details. For folks like me who are in psychiatry, physiatry, pathology, or other non-primary care fields, reading Kaplan Master the Boards first would be better to get a firm foundation for the other specialties first.
Kaplan's Qbook was most useful when I was studying outside in the nice springtime sun, and for me to avoid paying USMLEWorld's fairly steep subscription fees (early on in my studying) but otherwise the questions were at times too easy and the explanations weren't always useful. Sometimes it provided multiple-choice questions whose answers were blindingly obvious.