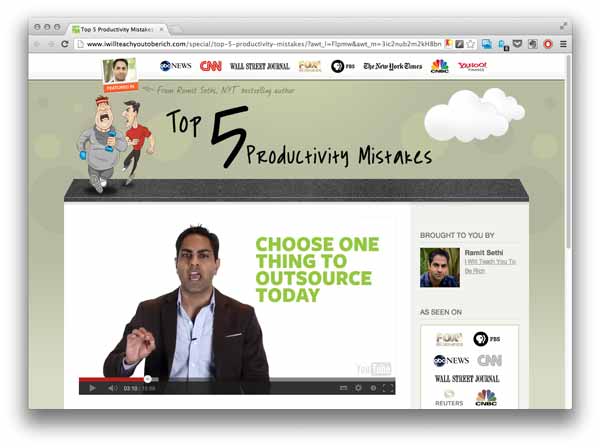 Ramit Sethi, a New York Times-bestselling author and productivity/finance/entrepreneur expert, talks about the 5 productivity mistakes that people make in his latest blog post. Here are my thoughts on how this applies to physicians, along with notes from the video itself since it doesn't come with a transcript.
Productivity mistake #1: Trying to do it all ourselves
Which to-do items will change your life (e.g. learn how to invest), and which just needs to get done (e.g. empty the dishwasher)? If you rank them all at the same level, you set them up for failure because you can't do them all. Top performers in the same 24 hours are very clear about where their time deserves to be spent. As you earn more and more, you can trade money for time. e.g. hire someone else to do laundry.
What is one thing you can you outsource today? Each week, pick one thing you can do to save one hour a week.
For me, I can get all my groceries delivered at Safeway.com. Or as a physician, delegating tasks properly to other members of the team. I remember one family physician at UC Irvine saying she was overwhelmed with trying to raise her family, be a wife, take care of her patients, and also clean the house — she's always been the one to clean her house — when she finally yielded & hired a housekeeper.