Telehealth involves incorporating care beyond traditional clinics and hospitals, and into two more domains: (1) at home, (2) in the community. Thomas Nesbitt, MD MPH, at the University of California, Davis, spoke at UC Davis's most recent monthly Health IT seminar covering the future of telehealth. I covered some of the questions concerning telehealth in my earlier post; here, I'll cover some of the challenges he touched upon during his talk.
At home, telehealth can potentially manage chronic diseases better. We are used to seeing health professionals during sporadic one-time episodes. Care management models are migrating towards more frequent patient contact and regular physiologic management.
This can make things like managing hypertension more accurate. Some patients might forget to take their meds for awhile, so they "spiff themselves up" beforehand to make it appear as if they were more compliant before a doctor's visit. Or perhaps they get "white coat hypertension," becoming more nervous while in the doctor's office.
Telehealth can instead monitor blood pressure on a more frequent basis to have a more accurate picture of a patient's day-to-day blood pressure.
Sensors like this SecuraPatch Sensor can help track heart rate, respiration rate, falls, stress, skin temperature, activity, caloric burn, and even body posture. It's nearly the size of a Band-Aid but does a whole lot more!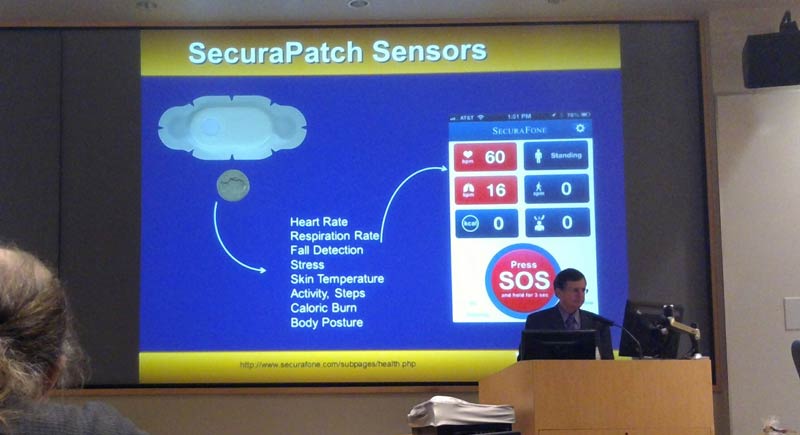 Projects from the VA in the mid-2000's, dedicated medical devices and peripherals for iPhones (and, I hope, Android devices), and even pills with embedded chips (as previously covered by Stephen Colbert in Cheating Death) demonstrate how telehealth can work at home.